Hymach Buddy is come: the versatile mowing arm
Thanks to the compact dimensions, the ease of assembly / disassembly, the independent auxiliary motor and the interchangeable shredder head, the new mowing arm of Hymach is the ideal solution for municipal administrations and contracting bodies to maximize the investment on their multifunction vehicle.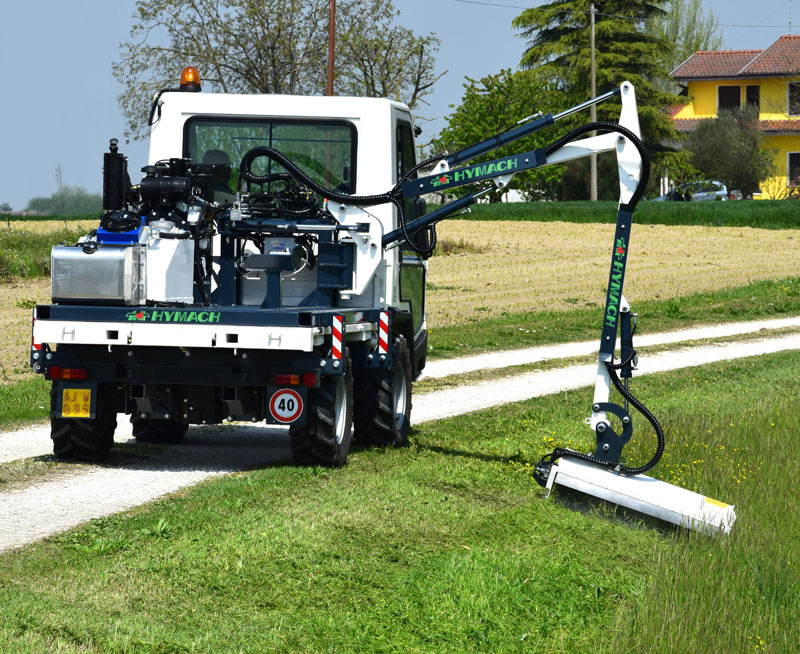 Hymach, historic Italian company leader in the production of high quality green maintenance machines, announces for 2019 the arrival of Buddy, the new versatile mower ideal for multi-purpose transporter vehicles.
A solution of great interest to all those municipal bodies and contractors who want to maximize the investment of their compact truck, transforming it into a suitable vehicle also for mowing the roads, pruning hedges and green works.
The practical and fast Hymach Buddy arm assembly / disassembly system can easily be performed independently, without the need for lifting equipment. The reduced dimensions do not impact the original dimensions of the truck, maintaining its characteristics of compactness and maneuverability.
Furthermore, the arm operation Buddy is totally independent of the vehicle system thanks to the auxiliary engine applied, so as not to take power away from it.
The signature of Hymach as always it is a guarantee of reliability: starting from the arm made of high quality high-strength steel; passing through the fundamental elements of the articulations, constructed in specially hardened and ground steel; coming to jacks equipped with regulation valves, from the excellent maneuverability.
The main components of the operating system are chosen from those proposed by the best brands on the market for performance and reliability, in order to allow a high performance in terms of power and productivity, and a long life span.
For more information consult the details page on the site, or contact us without obligation!