Tools for maintenance of green areas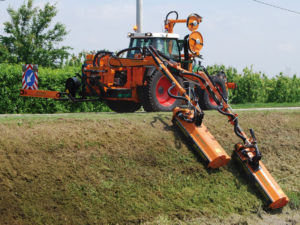 Bush cutters with a hydraulic arm for maintenance work on motorway and roadside verges, slopes, steep embankments, riverbanks and rural areas;
Vacuum bush cutters that collect shredded material for maintenance work on motorway and roadside verges, slopes, steep embankments, riverbanks and rural areas where it is necessary to remove clippings;
Over-the-row bush cutters for maintenance work on roadside verges in the presence of barriers, bollards, poles, trees, etc;
Hedge trimmers for maintenance work on hedges along roads, traffic islands, and boundaries of urban parks, rural areas, etc.
Tools for cleaning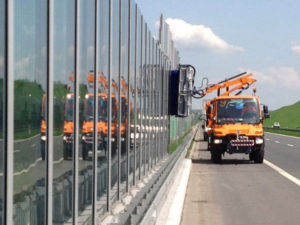 Cleaning units with a hydraulic arm for washing the active surface of photovoltaic panels in solar fields or on livestock facilities and greenhouses;
Cleaning units with a hydraulic arm for washing road barrier panels, road signs and tunnels;
Cleaning units for the restoration of guard-rails and wooden barriers.
Hymach equipment application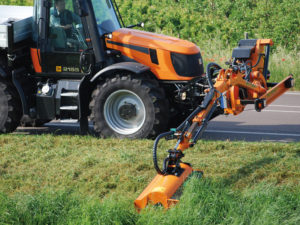 Hymach tools can be mounted:
On the rear and front hoist of a tractor;
In the centre of tractors with a custom built coupling frame;
On self-propelled vehicles with mounting plates on the front, rear or supporting frame;
On the body or tool plate of a truck, via the custom built sliding frame.
Design and production of Hymach equipment
All of the tools are designed by the company, and we carefully follow every step of production and testing.
The structures, which must withstand stresses during the lifecycle of the arm, are made from high-quality steel. The fundamental elements of the joints, bushings and bolts are made out of steel that has undergone hardening and grinding treatment that increases its strength and optimises its functionality, thus lengthening its lifespan. The jacks, equipped with control valves, guarantee excellent manoeuvrability.
The main components of the operating system, such as the pumps and engine, multiplier, distributor, radiator, have been chosen from the best brands on the market for performance and reliability. This ensures high performance in power and productivity.
We pay careful attention to the smallest details. Indeed, even the least important component is studied and carefully chosen so that it can best fulfil its purpose.
The wide variety of tool heads available means that our equipment is suitable for many different uses: shredding heads with up to 2 metres of cutting width, forestry shredders, slope mowers, ditch mowers, branch cutters, cutter bars, close-cutting heads, cleaning units, hedge trimmers.
Optional equipment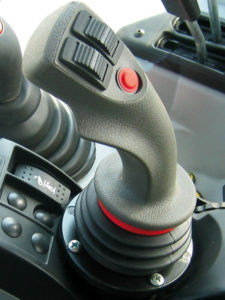 Various optional equipment is available to meet every client's requirements, including:
Pumps and piston engines, closed or open circuit;
Electro-hydraulic valves with functions controlled by a single lever joystick, which increases the manoeuvrability and sensitivity of commands, which can be chosen from various different types, depending on the performance you wish to achieve;
Front stabilizer with a block/unblock control device in the cabin for easier use;
A floating system that makes the entire work apparatus (arm and head) truly float with continuous adaptation to the ground that allows you to maintain a constant cutting height, which means a uniform cut and higher productivity;
Support wheel with a retraction system within the machine that reduces the quantity of ballast necessary for balancing the tractor when the arm is fully extended;
Third joint on the arm to facilitate work on narrow roads without having to occupy the entire road, and to facilitate cutting work on slopes as the green maintenance machine can remain close to the edge of the road;
Pivotal attachment that allows the head to rotate 360° horizontally and to align the cutting head backwards, particularly useful when you want to use a tractor's reverse drive and work in both directions;
Blower for cleaning clippings from the road surface.
Our standard green maintenance machines are designed for carrying out work on the right side of the vehicle but they can also be designed for operating on the left side.