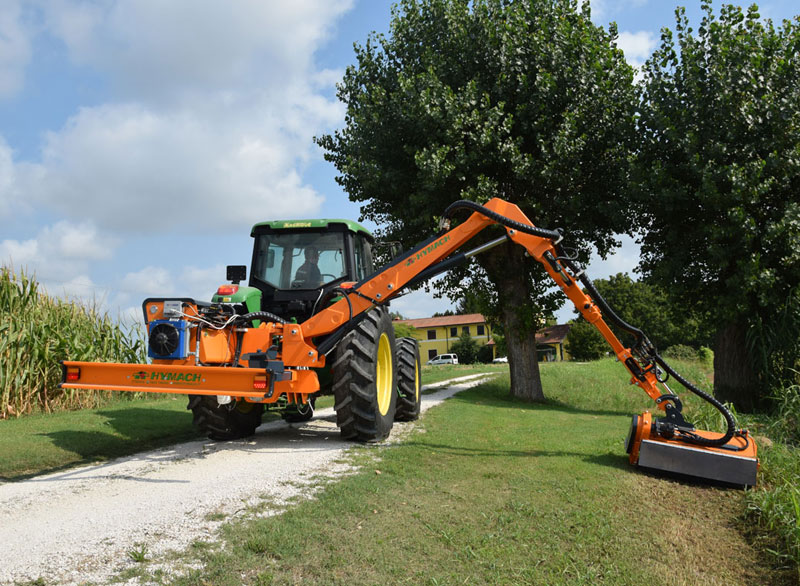 Brushcutter Visual Libra Hymach
Visual Libra has a forward movement system of the arm that allows the operator to easily keep the cutting head under constant control. The self-supporting frame is configured for rear attachment and the quick coupling and release system on the rear lift, in addition to the usual three standard points, can be equipped with a…Read more
Features
arm forward movement system
arm length of 7 meters
arm built in Strenx 700 with high resistance and elasticity
head equipped with belt transmissionarm forward movement system
Description
Visual Libra has a forward movement system of the arm that allows the operator to easily keep the cutting head under constant control. The self-supporting frame is configured for rear attachment and the quick coupling and release system on the rear lift, in addition to the usual three standard points, can be equipped with a removable coupling frame with the green maintenance machine, that creates a one with the vehicle without creating torsion rolls of the arm with respect to the tractor.
The length of the arm determined by two more telescopic segments is 7 meters from the center of the tractor to the end of the header. The arm is built in Strenx 700 with high strength and elasticity.
The cylinder head is equipped with a belt transmission, which absorbs the stresses during work while preserving the engine, and is proposed with a useful cut of 1,050 and 1,250 mm.
The Premium Plus configuration is the best that can be achieved for maximum power and best handling and includes:
closed circuit piston pump for the mowing function;
integral proportional electro-hydraulic distributor for services controlled by single-lever joystick manipulator;
digital control panel with intuitive controls for all functions.
Video Brushcutter Visual Libra Hymach