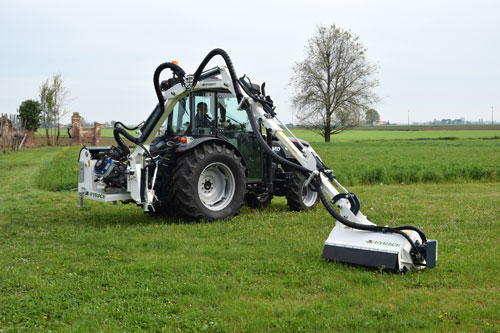 Brushcutter Juice Hymach
Arm usable in over-the-row position
Juice was created out of the need for cutting in terraced vineyards and orchards but it also lends itself well to working in situations with obstacles such as guard-rails, walls, road signs and especially on narrow or mountain roads where it needs to stay in its lane without invading the opposite lane. The arm has…Read more
Features
reduced size
high quality
suitable for orchard-type tractors
ideal for narrow roads
arm length extended: 5 metres
Description
Juice was created out of the need for cutting in terraced vineyards and orchards but it also lends itself well to working in situations with obstacles such as guard-rails, walls, road signs and especially on narrow or mountain roads where it needs to stay in its lane without invading the opposite lane.
The arm has multiple articulated segments precisely to reach over rows of plants or vertical signs, hedges or other road barriers. The arm can also be used extended and for working on a slope. Equipment therefore offers 360° performance.
The compact dimensions allow it to be mounted on tractors with a very narrow track such as the so-called orchard-type. The tractor-machine assembly can thus creep into closely-spaced rows as well as moving along particularly narrow roads.
Although it is a small machine, all its components are chosen to ensure productivity and durability over time. The arm is constructed of high-strength Strength steel to ensure a high degree of resistance and at the same time elasticity. Juice has excellent manoeuvrability, is mounted quickly on the vehicle and is just as quickly detached to leave the vehicle free for other uses.
The implementation and control of the machine functions can be realised with any kind of distributor applicable to grass cutters, and normally offered by the manufacturer, according to the needs and preferences of the user: from the hydraulic distributor with mechanical lever controls to the different types of electro-hydraulic distributor with controls actuated by a single-lever joystick.
The cutting head, specially designed for the arm of this machine, maintains the arc shape of the chassis of the other Hymach cutting heads, and uses a specific rotor that reproduces the helical arrangement of the cutting units: characteristics that allow for uniform cutting and excellent performance.
Juice fully deserves its place among the best professional machinery for green maintenance.
In addition to the tractor version, the reversible-drive tractor version, the truck version and also the mini shovel version are available with connection to the service system of the same.
Video Brushcutter Juice Hymach