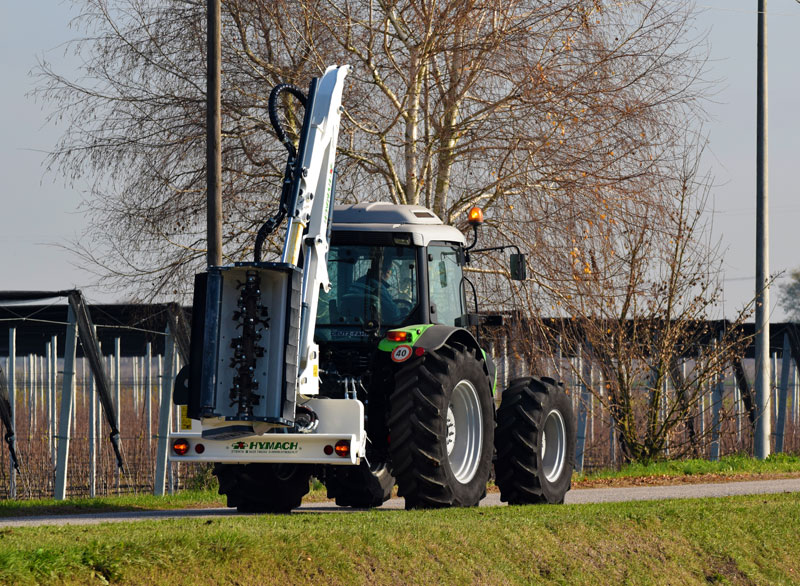 Brushcutter Master Hymach
Excellent stability even in extreme positions
The Master brushcutter is available in the TDH SM600 TR and TDH SM700 TR versions, respectively with 6 and 7 meters of arm length from the center of the tractor to the end of the head (100 cm head) and to be applied via attachment to third points of tractors starting from 70 hp. Each…Read more
Features
for medium-sized tractors
small footprint
matching the wheel edge
Description
The Master brushcutter is available in the TDH SM600 TR and TDH SM700 TR versions, respectively with 6 and 7 meters of arm length from the center of the tractor to the end of the head (100 cm head) and to be applied via attachment to third points of tractors starting from 70 hp.
Each machine for the green maintenance of the Master series can be equipped with a cutting head (from 100 or 120 cm), cutter bar, lopper bar and other equipment suitable for use on articulated arms of this type.
All the models of the Master series have a standard system consisting of components from the best brands on the market which includes high-performance cast iron gear pumps, hydraulic distributor with connection to telephone cables to the lever group to be positioned in the cabin in a convenient position for the operator, heat exchanger of heat with high exchange capacity, cutting head with arch shape that facilitates the unloading of the chopped material so as to avoid traffic jams inside the casing and increase productivity, rotor with multipurpose knives arranged in a helix to obtain a constantly uniform cut.
Video Brushcutter Master Hymach