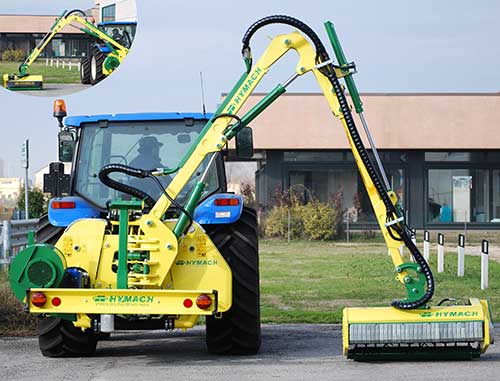 Brushcutter Double Trusty Hymach
Brushcutter Double Trusty by Hymach with a hydraulic arm and rotor cutting head, is a green maintenance machine, that can be installed on medium-sized tractors for maintenance work on motorway and roadside verges and slopes, embankments, riverbanks and rural areas. The head and arm can be rotated in any direction in order to be able to…Read more
Description
Brushcutter Double Trusty by Hymach with a hydraulic arm and rotor cutting head, is a green maintenance machine, that can be installed on medium-sized tractors for maintenance work on motorway and roadside verges and slopes, embankments, riverbanks and rural areas.
The head and arm can be rotated in any direction in order to be able to work on both sides and, if mounted on a reverse drive tractor, in both directions.
Available 5.5 metres in length. The arm has a telescopic end so that it takes up less space in the resting position.